Image: Keychron
We're big fans of Keychron's premium keyboard designs here at PCWorld. They consistently stomp the competition in terms of features and build quality, all while coming in at prices significantly lower than similar high-end builds. But there's a glaring omission in Keychron's sprawling lineup: While it offers a growing variety of wireless options, they're all Bluetooth, leaving gamers out in the cold if they want a high-speed cable-free option. Enter the Lemokey L3, the first board in a new Keychron sub-brand.
The L3 offers a familiar suite of options for anyone who's looked at the popular Q series. We're talking full aluminum frame, gasket mounting, RGB lighting, internal foam, hot-swap switch sockets, PBT keycaps standard, and programming with the popular cross-platform VIA tool. You know, all that stuff your favorite keyboard nerd (guilty) won't shut up about. But the design has three big changes designed specifically to appeal to gamers.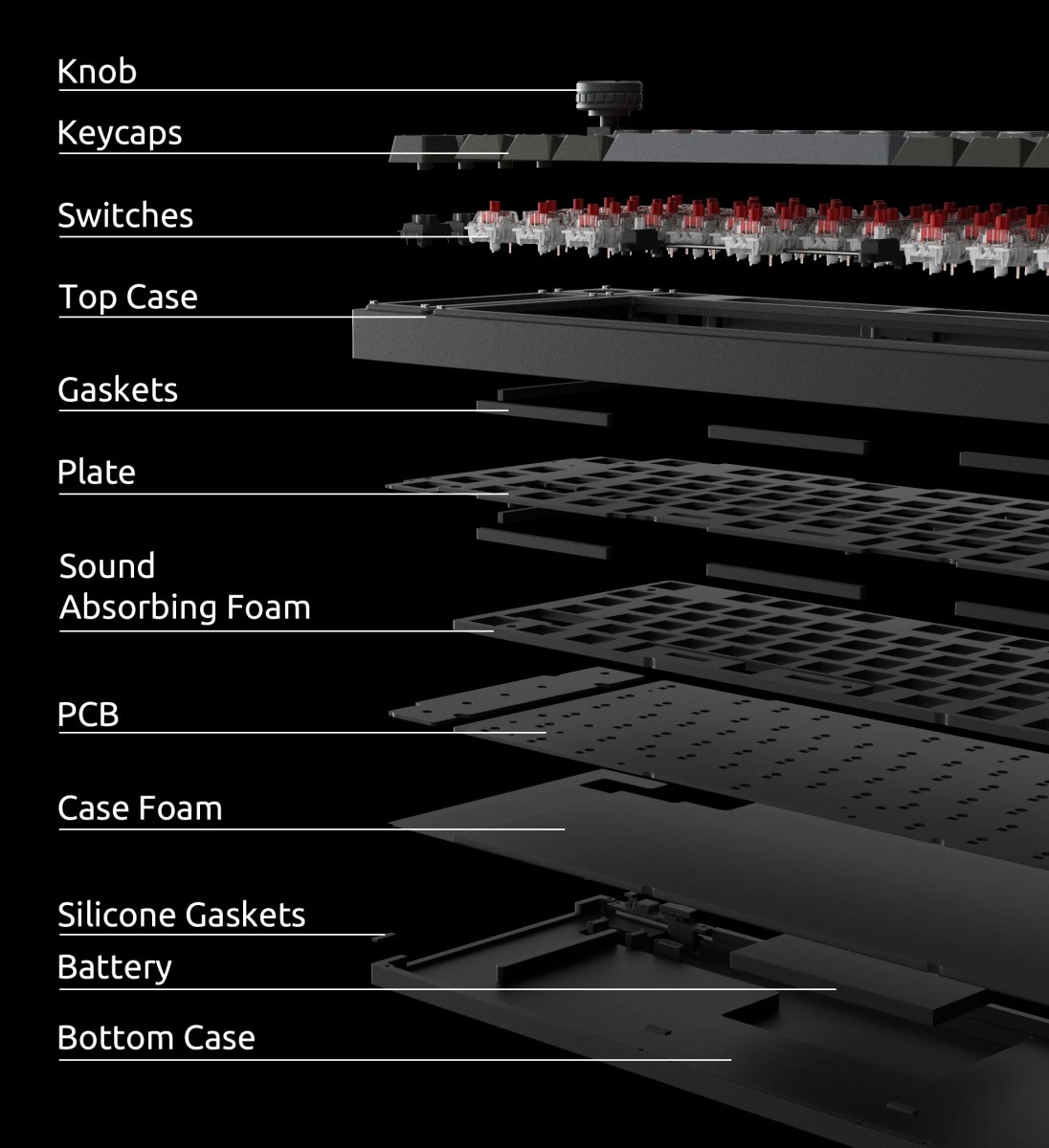 Keychron
First and most importantly, you get both 2.4GHz and Bluetooth wireless, with 1000Hz polling on the former, all of which have N-key rollover. That makes the connection speedy enough for all but the most caffeinated of eSports pros. The dongle + Bluetooth wireless setup is common from major brands like Razer, Logitech, Corsair, et cetera — in fact it's also on the SteelSeries wireless gaming board I'm reviewing right now! — so this is a reliable upgrade. The other tweaks are four dedicated macro keys on the right side beneath the radial dial and a chunkier, faux-military look to the keyboard case. Again, both pretty standard choices for a gaming-specific keyboard.
The only potential pitfall I'm seeing is reliance on QMK/VIA. Now, VIA is awesome as a tool for customization on a standard keyboard and one that's certainly preferable to some of the awful custom software offered up on most gaming keyboards. (Looking at you, Asus.) And I believe most gamers will like it because it doesn't actually require any software at all: You can load up custom layouts and macros right in a browser. But without an active Windows program, the Lemokey L3 won't be able to switch profiles on a per-game basis. That's less essential for a keyboard than a mouse since most PC games offer custom layout options anyway. Even so, I can see it being an issue for a small slice of PC gamers.
The Lemokey L3 will be offered in three colors: white, black, and blue, with Keychron's usual contrasting keycap options on top. It'll debut on Kickstarter later in July, with a regular launch coming sometime later. More specific price and release details weren't announced.