Apple has launched iOS 17, an exciting new version of its mobile operating system, aimed at revolutionizing the communication and sharing experiences across key applications such as Phone, FaceTime, Messages, and AirDrop. With the inclusion of innovative features in Journal and StandBy, Apple has revamped the user experience to unprecedented levels.
iOS 17 introduces personalised Contact Posters, a feature that allows users to customize their appearance on incoming calls with artistic photo treatments or Memoji, making calls more visually engaging. This feature will also extend to third-party calling apps. The upgrade also includes Live Voicemail, enabling real-time transcriptions of voicemails, with spam calls being automatically declined.
In addition to adding audio and video messages to FaceTime, Apple introduces expressive Reactions that enhance the interactive experience. iOS 17 also extends FaceTime to Apple TV 4K, with users now able to initiate video calls directly from their Apple TV or transfer calls from their iPhones.
Significant updates in Messages include new emoji stickers, creation of Live Stickers, and a more intuitive UI. Search functionalities have been made more powerful and precise, making conversations smoother and more engaging. New features also include Check In, an end-to-end encrypted safety feature that keeps family and friends informed about the user's location and device status.
iOS 17 also enhances the AirDrop experience with NameDrop, facilitating easier contact sharing by simply bringing two iPhones or an iPhone and Apple Watch together.
For those who often makes typos on their iPhones, you will be glad to know that iOS 17 boasts a more intelligent Autocorrect feature that offers sentence-level corrections and inline predictive text recommendations.
Dictation also uses a new speech recognition model for better accuracy.
Taking a page from Google's Pixel phones, iOS 17 introduces StandBy, a feature that shows glanceable information when your iPhone is charging, which can be personalised to show a range of beautiful clock styles, favorite photos or widgets, there's also support for Live Activities, Siri, incoming calls and larger notifications, which makes the iPhone great as a nightstand.
Finally, for those who loves journalling, iOS 17 introduces the new Journal app that lets you write down your thoughts, which Apple believes that will improve one's wellbeing, and a feature that many will appreciate as we have seen people writing their thoughts with the Notes app.
If you don't know how to start with a journal entry, the app makes it easy with its intelligent suggestion feature to curate journal entries from recent activity, including photos, people, places, workouts and more.
Users can lock the app from unauthorised access and it uses on-device processing, and end-to-end encryption to secure the app, which even Apple themselves can't access what you have stored within the app.
Additional enhancements include advanced tracking and fingerprinting protections in Safari, secure password sharing through iCloud Keychain, mental health features in the Health app, offline maps in Maps, collaborative playlists in Apple Music, and powerful features for AirPods.
Privacy updates and accessibility features have also been included, making iOS 17 a highly inclusive and user-friendly version of Apple's mobile operating system.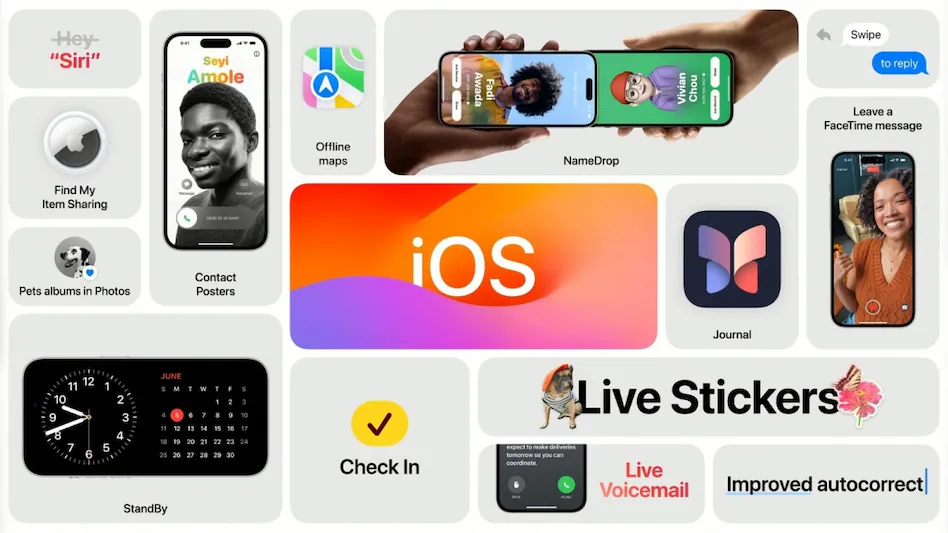 The developer beta of iOS 17 is now available to Apple Developer Program members, with a public beta to be released next month, it will only support iPhone Xs and later, while older iPhones running on iOS 16 will still continue to receive security updates thereafter.
The geeky dictator of KLGG.